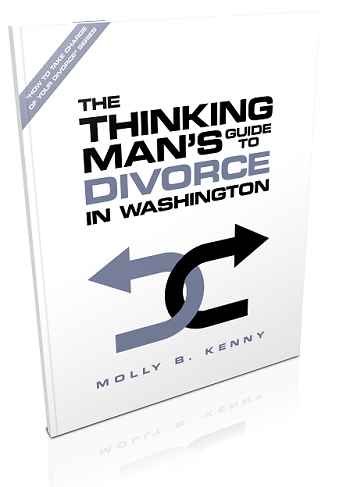 Once you have made the initial decision to get a divorce, what is the next step? While you may now know exactly what you want out of the new chapter in your life, you may not know much about the process of getting there. While many people understand the difficult emotional components of divorce, it is also vital that you are familiar with the legal aspects of your divorce in Washington State to ensure that you and your children are treated fairly.
Helping Men Through Divorce in the Seattle Area
The Seattle divorce attorneys at the Law Offices of Molly B. Kenny absolutely recognize how difficult it is for men to find legal information about divorce in Washington State, as well as how important it is for them to understand the basics of the legal process so that they may protect their rights. To ensure that men have the information and tools they need to understand the divorce and child custody process, they have written a FREE, 60-page eBook: The Thinking Man's Guide to Divorce in Washington.
This thorough, easy-to-understand guide contains a plethora of information, including divorce tips for men related to:
The 20 things you need to do before a divorce
The seven stages of divorce
The six factors used to calculate spousal support/alimony
The factors used to calculate child support
The ten factors considered by judges in contested child custody cases
The formula used to determine how your retirement accounts are split
The 38 types of financial records you need to find for divorce
The 15 questions to consider before hiring a divorce attorney
The cardinal rules of being a divorced parent
Examples of child support worksheets and schedules
Forty appropriate children's books about divorce
From dividing property to deciding what to do with the house to creating a parenting plan that is best for your kids, this guide was created in the hopes that Seattle families can navigate the divorce process quickly, fairly, and with the utmost care for their children.
Get Your Free Divorce Guide For Men Today
Make sure that you are financially, logistically, and emotionally prepared for your divorce. Order your free digital copy of The Thinking Man's Guide to Divorce in Washington today.
Please complete the information below to order your free copy. Be sure to provide a spouse safe mailing address. If you need to setup a free spouse safe email address click here, and you will be directed to setup a new email account with Google prior to completing the form.