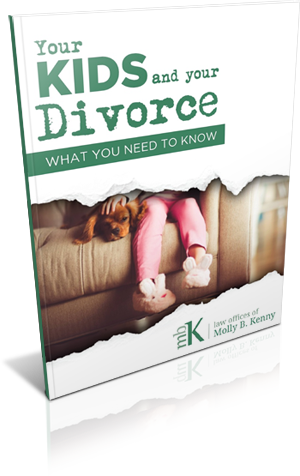 There can be a lot to worry about when you're going through a divorce, but a common question our attorneys hear from parents is, "How are my kids going to handle this?" That's why the Law Offices of Molly B. Kenny offers this eBook, Your Kids and Your Divorce – What You Need to Know. We consulted with leading psychologists and other top experts and wrote this short book specifically to answer your questions about children and coping with the divorce process.
Learn the Signs of Stress in Your Children
Most children are able to make a healthy transition through their parents' divorce, but it is completely normal for a child to show some signs of stress or worry. After all, this is a major life change, and a child's ability to cope is still a developing process. As a parent, you're in an ideal place to observe your child's attitudes and behaviors and gauge if they are coping well or getting a little overloaded.
Our guide can show you how to recognize the normal symptoms of stress in your child, as well as some of the signs that your child is really struggling with the situation and could use some extra help. We describe the common symptoms of minor and major stress, as well as how to get help when you need it.
We've also provided advice from a certified divorce coach and parenting mentor that can help you gauge your child's ability to cope and how to boost their confidence that everything is really going to be okay. It's not just good advice for children, either—it will help you to remember that everything really is going to be okay, too.
The attorneys and legal staff at the Law Offices of Molly B. Kenny know from over three decades of legal experience that divorce can be tough for families. We want to do everything in our power to make the entire process as easy as possible for you, so you can get your life back to normal. That's why we've made this eBook available to you, as a service to every parent in a time of need. It's completely free, and you can get your copy by filling out the form below.
If you have any questions about the divorce process and would like to speak to someone, we're glad to provide legal answers to you. Please reach out to us and arrange a private consultation in our Bellevue offices by calling (425) 460-0550.