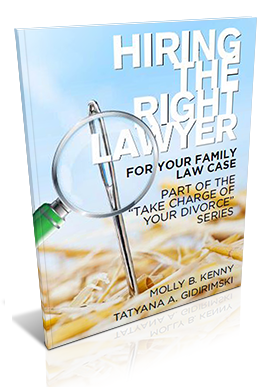 When you need legal expertise, it can be challenging to find an established, experienced attorney that you're comfortable with and you trust. Not only do you want someone who is skilled in the area of your specific case, you want someone with whom you can build a long-term attorney-client relationship. The attorneys at the Law Offices of Molly B. Kenny know that you shouldn't make a quick decision when making your choice. That's why we wrote Hiring the Right Lawyer for Your Family Law Case. We believe there are 11 important criteria to use when choosing an attorney, and this book can help you determine the best possible legal representative.
What to Look for in an Attorney
People who need to hire an attorney seek different characteristics in their legal representative. However, there are some key criteria that most everyone should look for, including:
Experience. When it comes to hiring an attorney, experience is very important. It often takes many years of handling family law cases for an attorney to fully learn and understand the strategies and methods needed in court. Hiring an attorney who has at least 10 years of experience can help ensure that she's had exposure to many types of legal situations.
Area of focus. Many attorneys are "generalists" who may represent family law clients while practicing in other areas, such as criminal law, real estate, or personal injury. It's important that you choose an attorney whose practice is focused on family law. Because this area is complex and, in Washington State, family law cases are heard in specialized "family courts," there are special court rules that the attorney must understand. You need an expert whose practice devotes at least 75 percent of its time to family law.
References and testimonials. It's important to look at an attorney's prior work, follow her cases, and read comments from past clients. Your attorney should take your case seriously and treat you with respect and have the testimonials that show their clients' positive feedback.
Our e-book, Hiring the Right Lawyer for Your Family Law Case, is filled with insightful tips on how to choose the best attorney, as well as advice on navigating legal directory websites that may not be completely honest. Our e-book is short, easy to read, and completely free for you to download right now.
Ultimately, we hope you choose an attorney at the Law Offices of Molly B. Kenny for your family law issues; however, what's most important to us is that you pick an excellent lawyer that meets your needs best. If you would like to talk to us with any questions you have, please don't hesitate to give us a call and arrange a private consultation at (425) 460-0550.