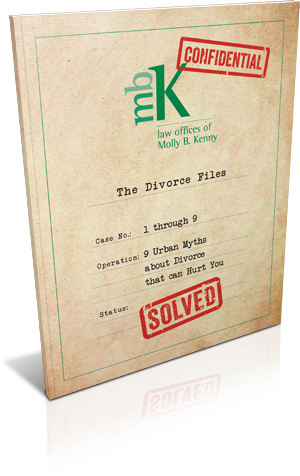 What you don't know about divorce CAN hurt you. Before you make a mistake that could ruin your personal or financial future, read divorce attorney Molly B. Kenny's latest book, 9 Urban Myths about Divorce That Can Hurt You.
The Truth (About Divorce) Is Out There
Misinformation about divorce is rampant. How often do you hear divorce advice from someone who thinks they know it all because they got divorced themself? Or worse, divorce advice from someone who has never been through a divorce at all?
Molly B. Kenny puts an end to these divorce myths in this free downloadable booklet by debunking 9 popular myths:
If I move out of the marital house, I give up my right to ownership.
I can deny visitation if the other parent isn't paying child support.
My child can decide where they want to live.
I have to sit in the same room as my spouse during mediation.
Hiring an attorney will just make my divorce case worse.
If one spouse made all the money, they get to keep everything.
The mother always has the advantage when it comes to child custody.
Filing for divorce first is an advantage.
You can't get divorced unless your spouse consents.
Download Your FREE Copy Today
After reading your copy of her book, call the Law Offices of Molly B. Kenny to set up a consultation to discuss your situation. Your meeting with Molly can answer your more personal questions specific to your case.
Don't let divorce myths mislead you for another moment – download your FREE copy today!