Has Your Son Been Accused of a Sex Crime? Read Our Free eBook to Learn How to Help Him Navigate the Juvenile Justice System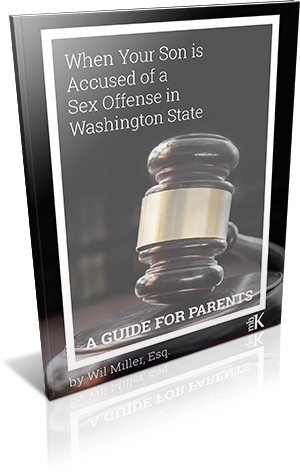 When your son is accused of a sex offense, your world implodes. True or not, once made, the allegations trigger a tidal wave of invasive reactions from police, prosecutors, probation officers, and social workers who suddenly swoop in to take control of nearly every aspect of your son's life, and the lives of his family members. It's a terrifying experience for most parents, especially those who know nothing about the juvenile justice system.
This book was written to help parents understand some of the complex issues involved in these types of cases, so they can help when their children need it the most. This book should not be used as a substitute for hiring a lawyer. Nor is it a "do-it-yourself manual." It's simply a guide to give parents hope, and to provide them with the information they need to help them navigate the juvenile justice system in a way that will minimize the devastating impact of being accused of a sex offense.
The author of this book, Attorney Wil Miller, is a former Assistant District Attorney from New York City who worked as a Supervisor in the Special Victims Bureau of the Queens District Attorney's Office. After moving to Seattle in 1995, Wil worked in the Juvenile Court Unit of the King County Prosecutor's Office, where he tried cases involving juvenile sex offenses. Wil became a criminal defense attorney in 1998. During his 29-year legal career, Wil has handled hundreds of cases involving allegations of sex crimes, both as a prosecutor and as a defense attorney. Wil's practice now focuses on criminal law issues that affect families and family law cases.
Molly B. Kenny's Bellevue family law office is conveniently located on Lake Bellevue Drive, making it easily accessible to those in the greater Seattle area. Our divorce and child custody lawyers help men and women get the information, guidance, and compassionate representation they need.
Law Offices of Molly B. Kenny
9 Lake Bellevue Dr #204
Bellevue, WA 98005
Phone: (425) 460-0550
Fax: (425) 460-0551